Nylon Shade Mesh for Bird Control, Garden Netting for Protection of Fruit Tree, Vineyards, Crops, Vegetables and More.
Agriculture / horticultural PE bird net made of polyethylene or nylon netting materials. High Density HDPE (polyethylene) Anti-bird Net is designed to keep sparrows and birds out of various cereal and oil crops, vegetables, melons and fruits, flowers, tea, domestic fungus, medicall herb materials, etc. At the same time, bird netting is used also as windbreaking net and shade net to protects the crops and fruits from strong wind and sunlight.

Case Study on How Bird Netting is Used Against Birds:

1. Plastic Mesh knitted Material: 100% new HDPE with UV(2-5%), has a light weight:
30gsm,35gsm,40gsm,45gsm,50gsm or custom. It can be applied on a permanent structure or as a reusable drape-over net covering fabric for fruit trees or plants.

2. Nylon or Plastic Netting is simple in structure, durable, high quality and inexpensive. Suitable for multiple protective functions for avoiding the damage of birds and insects. It can greatly improve the output and quality of the plants or crops.

3. Use Nylon, HDPE high density polyethylene, or PE materials, plastic garden mesh netting enjoys weather-resistant, superior to other similar products, with strong anti-air, anti-aging, anti-summer heat and UV resistance, wind resistance. It can be used for 3 to five years or even longer, to avoid frequent replacement.
Airy Bird Net Specifications:
Material: 100% new HDPE with UV(2-5%)
Gram weight: 30gsm,35gsm,40gsm,45gsm,50gsm...
Roll Width: 1-16meter
Length: 50m,80m,100m,150m...
Mesh: 10x10mm, 15x15mm, 17x17mm,20x20mm, 25x25mm, 30x30mm, 35x35mm
Color: Black, white, green
Service life: 3-10 years

Classfications:

Nylon Bird Control Net for Agricultural Farms:
Material: nylon 11D/2
Heigth: 1-10meter
Length: 1-50meter
Mesh: 15x15mm-100x100mm
Color: black



HDPE Black Sun Shading Net for Garden Covering Protection from Birds
Anti Hail Bird Netting: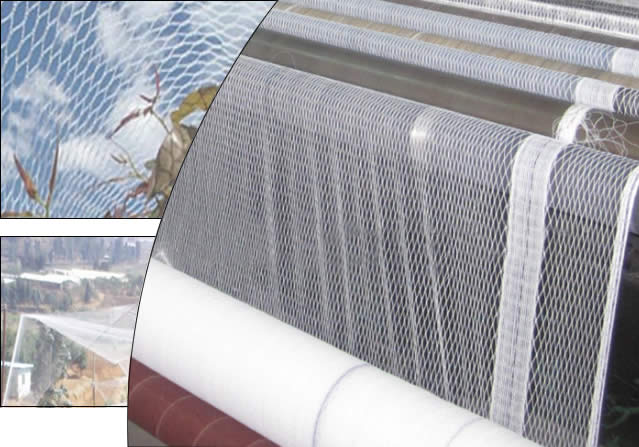 Color: Yellow Green can be customized
100%virgin HDPE;0.3% UV added
Net Weight: 25-30-40G/M2
Mesh hole: 5*5;2*2;6*6;8*5
Colour: blue;yellow;green;red(as per required)
Width 5-15M(as per required)
Roll Length: 1-50M;1-100M;1-200M (as per required)
Type: Wrap knitted

Heavy Plastic Mesh against Snow:

We supply economy anti bird netting and heavy-duty anti bird netting. Both are flexible and manufactured by knitted or knotted polyethylene netting. The economy bird netting is light in weight and the best selection for protecting medium sizes of birds, such as sparrows. While the heavy-duty anti bird netting is of superior quality, with its extra heavy-duty and high density, this pvc netting ensures protection against all types of pigeon and similar sized birds, while allows snow to fall through when used as a Fruit Cage roof netting.
Common use: Agriculture, schools, parking lots, sports fields, sceenhouse, greenhouses, sun shade, swimming pools and sports fields.